TrackDrive +
The Zoho CRM integration with Trackdrive provides a better customer experience for managing leads, contacts, phone calls, and more.
By utilizing the integration, zoho users gain access to integrated call logs, notes, lead and contact management all within Zoho CRM.
Zoho users benefit from click-to-call dialling, power dialing, automatic call logging, automatic lead and contact syncing and more.
Zoho User Features
Automatically login to Trackdrive if a matching agent exists.
Automatically sync Trackdrive agent data to Zoho users if a corresponding user field in Zoho is defined:

TDPhoneNumber
TDAgentId
TDAgentEmail
TDAgentCallCenterId

Click-to-call Dialling within Zoho CRM interface.
Trackdrive Zoho Commands
Run actions from Trackdrive to create entries, update entries, convert leads, and create/update entries.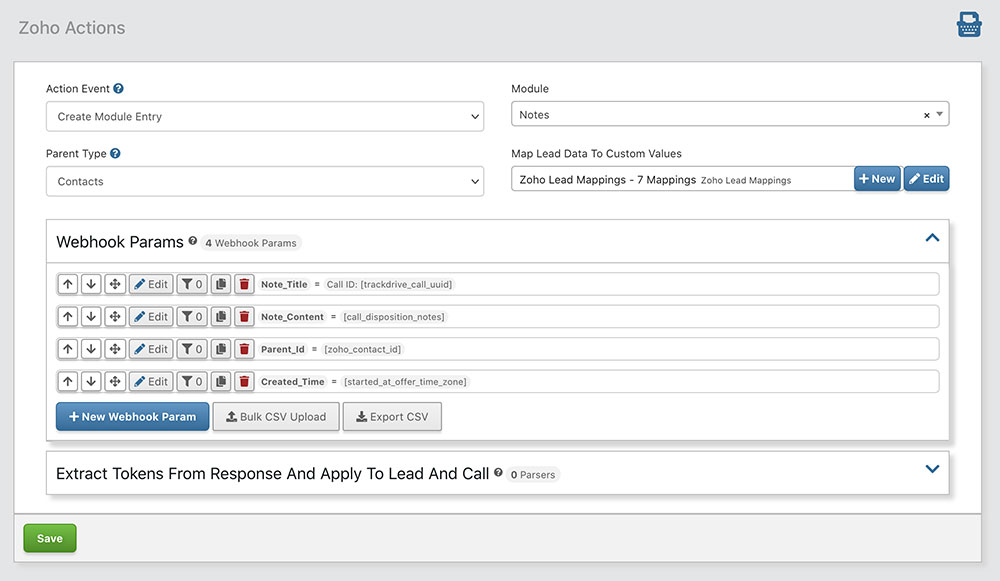 Zoho Actions:

Create Module Entry
Convert Lead
Create/Update Module Entry
Update Module Entry

Actions manage various module types:

Leads
Contacts
Calls
Accounts
Deals
Campaigns
Tasks
Cases
Events
Solutions
Products